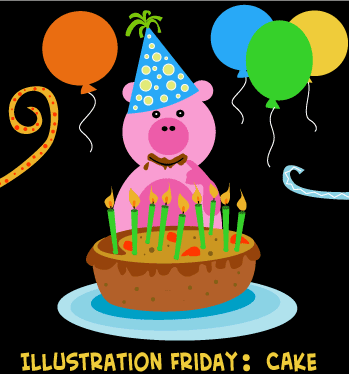 A lady from a large grocery store chain with a bakery department called me on the phone from seemingly nowhere and asked if I would like to come in for an interview to be a cake decorator.
A cake decorator! I never had ever thought of being a cake decorator before-- except maybe once when I was using my Easy Bake Oven as a kid. It sort of appealed to me in that moment.
"When do you want me to come in?" I asked.
"Anytime today, " she said. "Just come into the Manager's office and ask for Char."
So I did. She took one look at me and said, "You're hired".
It felt pretty nice to being hired so quickly and easily on the spot. But then my smile and feeling good about myself faded instantly when she said, "You'll be making approximately $8 an hour, just four hours a day, then we take out $40 of union pay out of your paycheck each week so you'll gross $120 and with taxes and benefits taken out, you can probably count on about $78 a week. Sound good? Plus, you get one floating holiday off your first year and then after that you get your birthday and anniversary date off. Come in on Monday, to pick up your uniform"!
On Sunday, I walked into that large grocery store and told the young teenage manager that I could not take the job.
She just jeered at me and blew so hard, the bangs of her hair flowed back and forth by her breath and said, "Well, it's a GOOD THING you didn't quit AFTER we paid the money for you to attend Cake Decorating School!"