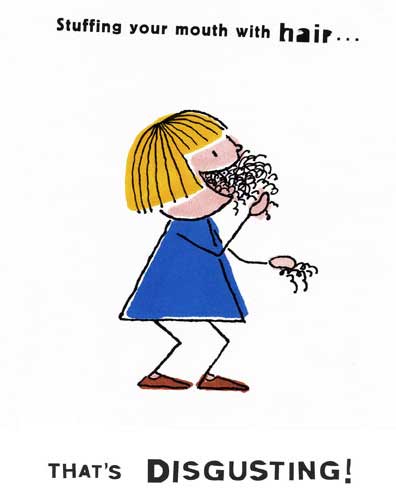 I didn't draw that picture.
It's scanned from a
kid's book
that I absolutely love along with "That's Mean and That's Dangerous!"
The book reminds me so much of a conversation I heard recently between two kids.
The girl asked, "What would you rather eat? A Hair Sandwich or a Booger Sandwich?"
The boy thought for a bit and replied, "I guess the Hair Sandwich. I'd wash it first with good smelling shampoo so it would taste
delicious
."
Then the boy asked the girl, "What would you rather eat? Cat poop over ice cream or Blood over ice cream?"
The girl squealed. "That's gross! I don't want to play anymore!"
"You
HAFTA
play!" he said.
"No, you can't
make
me!"
"Yes, I can. What is it? Blood or Poop?!"
She thought for a while and asked, "Is it a cute little kitten's poop?"
To see more funny pictures from this book, click
here
.