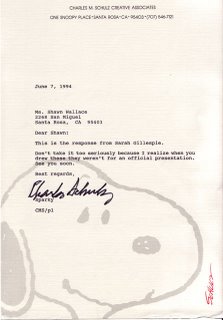 I adored Charles Schulz. Did you know that precious, unassuming man always had his personal phone number listed in the telephone book?
For five years, I lived in an upstairs apartment drawing every day about my life and feelings and insecurities and daydreaming of becoming a comic strip artist. I would be drawing and then stop and look out my window and send my wishes and hopes and dreams across the park and roof tops. Never knowing, that one of those roof tops I stared at was the roof top of Charles Schulz's art studio!
He and I lived in the same town and it wasn't unusual to see him out and about from time to time. But there was a moment, where our lives crossed and I will never forget it for as long as I live.
I was in a book store flipping through some
Calvin and Hobbes
comic books, when he gently tapped me on my shoulder and suggested I buy a
Peanuts
book instead. I looked over at him, gasping, recognized him instantly.. blurting out,
"Hi Mr. Browwwn!"
I was wearing a t-shirt with my own comic strip on the front and pointed it out to him, saying he was my inspiration. And being so nervous, I jumbled up my words and expressed I wanted to become a

comic stripper
because of him.
He smiled and seemed to connect with me and invited me to his studio a few days later.
It was a dream come true.
He gave me a tour and showed me his latest strip he was drawing. He pulled out an unknown, not-yet-published Mutt's comic strip and said,

"Patrick McDonnell will have the best strip out there"

and I felt warmed that I was seeing all this before it went to print.
He spent a great deal of time looking through my comics and spoke kind and hopeful words to me about them and offered suggestions. Though I arrived there in such a cloak of vulnerability, his kindness wrapped a woolen blanket around me and warmed me to the bone. I believe he recognized parts of me in him and felt a kindred spirit between us.
He personally sent my rough comics out to his syndicate. He even called me a few times. Left messages on my answering machine that I still have on cassette tape. He wrote a couple of notes to me of encouragement. Gave me an autographed book called
40 Years of Life and Art
. And, if I wasn't so bashful and if I believed in myself more, who knows what would have happened with my comic career with the help of Charles Schulz? I know he
wanted
to help me. That's the way he was.
I certainly don't have any regrets today of what happened then, because I'm exactly where I want to be, and I no longer carry the same dream of drawing a comic strip as I once did.
When he died, my heart broke. I went to his Memorial Service and sat up on the left-hand-side of the balcony and cried my eyes out. Santa Rosa felt more empty.
----
About a year after his death, I was showing a friend his studio.
"I don't think this is a good idea, Shawn", she said.
"Oh, c'mon. We'll just

peek

in the windows."
I pulled into the driveway at One Snoopy Place and the electronic doors swung open and let us through. We parked near the front door and peered into the windows and his studio still looked just like it did when he was alive. I was thrilled!
"Look over there! That's his drawing table!" I shrieked, pecking the window with my finger.
My friend was still nervous, looking around. "Isn't this private property? I think we should leave now..." she said.
And as we got into the car to drive out, the electronic doors didn't open for us.
We were locked inside the gate!
We called Security. They couldn't help us. Their contract ended two weeks earlier and they didn't know who had the code or key to let us out.
It became dark and cold and we sat in my car with my engine and heater on to keep us warm while my friend had that look of "I told you so" on her face.
After a couple of hours, headlights from an oncoming car blinded us for a moment as it drove up through the electronic gates and they opened for us. I darted out as quickly as possible never looking into the oncoming car. I'm sure if I did, I would have seen a face of an angel.
Back at home, she and I talked about our experience of being trapped inside, but it wasn't a scary experience.
We actually felt
comforted and safe
being there locked inside the gates. Which isn't surprising, really.
Because he was comfortable and safe.
And the world is different without him in it.