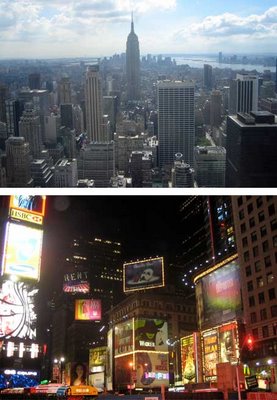 I'm home from the Big Apple without a hitch! Well,--unless you call experiencing

an emergency landing in Salt Lake City

a hitch (!)-- everything else went smoothly.
I LOVE New York City. It really is an amazing city. I loved every single moment I was there. Hailing cabs, walking, riding the train, walking and walking. Did I say walking? Looking up was so powerful and it made me dizzy when the clouds passed over the large towering buildings above, looking as if they were toppling down on me.
The first few days I lived and worked in Chelsea. I worked with some really interesting people and I felt so comfortable working there. When my business trip was over, I spent the weekend in a large 5-story brownstone in Midtown, where on a warm evening, we sat on the rooftop talking and taking in the view. The Empire State Building seemed so close, I felt I could reach out and touch it.
On Saturday, we walked from Bryant Park to Rockefeller Center over to St Patricks Cathedral and Trump Towers down to Central Park and Tavern on the Green to the Dakota, over to Times Square and wandered through the large Macy Building and the Empire State Building. It was amazing, zigzagging around people as we walked the busy sidewalks and then stopping to turn a corner and suddenly discover we're on a street I've only seen in movies and tv.
A year ago, I received a pair of my first expensive polarized sunglasses. And seeing through these wonderful glasses, I see things so much more clearly. The colors appear more intense. For instance, this morning I saw clouds in the distance that I couldn't see when I had my sunglasses off.
And that's what New York did to me. I saw things in a newer and clearer way. It gave me a new perspective of seeing life and this world of ours we live in that I would not have normally seen. I'm still unsure of all the feelings stirring about me, since my experience there is still new. But I know I'm not the same.