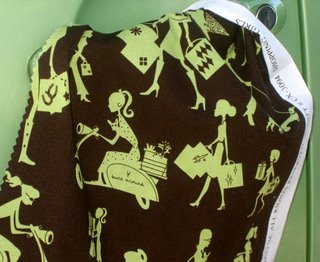 My very first illustrations on fabric have come in from the Mill!!!
Several days after I made my wish that I wanted to see my illustrations on fabric, it came to pass. I drew these girl silhouettes and now it's in a zillion different colors!
The vestas say "buZZ around" but originally everyone thought it was "buGG around" because the z looked more like a g before I changed it.
I thought that was so cute! "BuGG Around". Though it doesn't really make any sense, unless you drive a VW Beetle as I do.
So now I think of myself bugging around town instead of driving.
I fly out to NYC in a week and a half to work in the office there a few days and meet my east coast coworkers. I look forward to this new adventure.