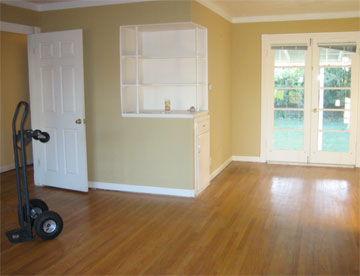 I just read a newspaper article about a woman in Washington who was reported missing from her husband. The police found her body buried under a huge pile of clothes inside her house after a 10-hour search. Her husband believes she fell while looking for the phone and because there were so many piles of stuff, the man couldn't find where she fell.
She suffered from a condition called Hoarding.
It was estimated that several tons of debris was piled up inside the house and the police's heads kept touching the ceiling as they climbed over the clutter. They didn't even see her until their second search of the home.
I am not a hoarder by any means, but I have been wanting to get rid of my extra clutter before the summer ended.
Now I've been forced into it more quickly than I expected as I'm getting my floors refinished beginning tomorrow morning.
Within the last few months, I've been wanting less clutter in my life. It's an interesting phenomenon. It's happening all around me. Because I know, once I put my sight and heart on such a thing, the universe begins to set this in motion and helps me out.
It all began about a week and a half ago, when my hard drive crashed.
I lost everything. Every email, bookmarks, email addresses, artwork, photos, itunes, stories I had written. Invoices. Bank statements. Everything. Those who have experienced this, can relate to this huge, sudden loss.
I had planned to back things up, but I wrestled with the notion that I would have more CDs and more CDs meant more clutter. So I held back and now have ... nothing.
It was horrifying to me when it happened, but I've dealt with the loss and now enjoying my bare hard drive. I plan to keep it clean and organized and back things up on a more regular basis.
And, when an 85-year-old man on oxygen, gave me his used treadmill, a soft-tub and other things last summer, I reluctantly took them off his hands, worrying if I had any room to store them, but over the weekend, he apparently decided it was worth $3,000.00 and wanted the money immediately.
Instead, I packed them up and delivered his gifts back.

Immediately.
It feels good to have those things out of my house. I am enjoying the extra space.
Once my floors are redone, I am only going to bring back inside my house only the things I really want. And the other things will either be tossed in the garbage, donated or sold in a garage sale.
I'm really excited about this new place of calm I'm inviting into my life.