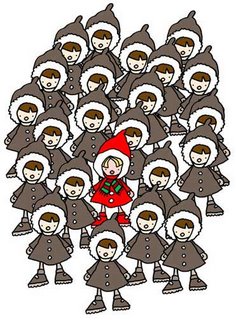 This adorable illustration was drawn by the talented doodlestreet who so graciously sent this to me while I was in NYC and gave me permission to post it. It's a picture of me in my red coat walking down the streets of New York City. I brought the red coat because everyone suggested I wear the red, and I suppose I did stand out more for the cab drivers to find me, but there were times, I sort of felt like maybe I looked like a clown.
I'm not sure what it is with me and airplanes. The last time I flew back from New York, we had an emergency landing in Salt Lake City. This trip, while flying into JFK, we were only a few feet from landing when the huge plane with double aisles, thrusted its engines and the nose of our plane raised it's nose high in the air and we took off again to keep from a near miss of hitting another plane taxing in front of us on the runway.
But, in the end, we all landed safely. The driver holding the sign with my name on it was late to the airport so I had to wait for him on the curb outside. I never saw the sign with my name on it. I had my camera set to take a picture.
I stayed at the
Park Central New York
in room 1608. I recommend staying here and requesting my room. It's close to everything and from my hotel window, I could see Times Square and all of it's bright dazzling lights. It reminds me of Vegas.
Besides being close to Times Square, I was around the corner from the Ed Sullivan Theatre and just a few blocks from Rockefeller Center and Central Park. And just two doors away from the
Carnegie Deli
that has the largest sandwiches you will ever eat!
There was so much hustle and bustle outside that I never went into my room very early. The energy of that City kept me awake for hours much longer than I usally am. Each night I would wind my way down the crowded streets to take in the experience. I can't seem to get enough of that City. I can't express in words how it feels to suddenly turn a corner just beyond Radio City Music Hall and see the famous christmas tree in Rockefeller Center for the first time, and feeling it catch my breath. --It was enormous and beautiful. I reached for my camera to snap a quick shot of the tree, when I lost my grip and it slipped out of my hand, crashing down hard onto the concrete sidewalk.
One very significant piece broke off. I sat down on the bench near where it broke and stared long and hard on the ground, hoping to see a reflection of the metal. I looked under the table. And then down into the grate in the ground. Nothing.
To console myself, I walked into the NBC store close by but instead, the security guard at the door pushes me to step back. "We're closing." So I backed up outside and stared into the glass window into the store.
She repeated her words, "
We're closing!
" I looked back at her and mouthed the words "Can't I just peek in the window?"
She opens the door an inch away, "What'd you say?"
"Can't I stand here and peek through the window?"
"Of course! I was telling the folks
behind you
that we're closing."
(blush)
I wander around a bit more. And then return to the place where I dropped my camera. I was hoping to see something glisten from the reflection of the lights, but instead the only thing I see is a young couple in love, sitting on the same bench I sat early, staring at her brand new shiny diamonds in her engagement ring.
"Yes! Yes! I will marry you!"
she cries and they embrace. Both are crying. And laughing. And staring at the sparkling ring.
I decide to let them be as I continue along the sidewalk back to the hotel. Grateful they created a new memory for me on that bench I only sat on just 20 minutes earlier lost in my search of the broken pieces to my camera.
After work on Friday, I hailed a cab in Chelsea to a friend's home near Times Square. The doorman had a key waiting for me and I carried my bags up to her apartment. And from there, I walked a few blocks to catch the subway. I was supposed to get off at W4th Street/Washington Square to transfer to another train, but when we arrived, I remained standing there on the train, holding on to the pole. We stopped at the Spring Street station and I stayed on. Finally, I decided at the Canal station to jump off and catch a train back to W4th Street/Washington Square. Eventually, I found my way back and got off at Broadway and Lafayette and headed down the street towards Houston to meet her in a neighborhood book store. I loved SoHo and its cobblestone streets and its eclectic neighborhoods in lower Manhattan.
It was a weekend filled with cabs, buses, trains, subway and cars and lots of walking. I missed the rickshaw ride. The weekend ended in Long Island visiting my precious relatives. I'm so happy I didn't fly home on Friday to spend the weekend back in California to start my christmas shopping because the gift of my experience there this weekend, was truely the best gift. And there's still time to shop. But, I'll think about that tomorrow.