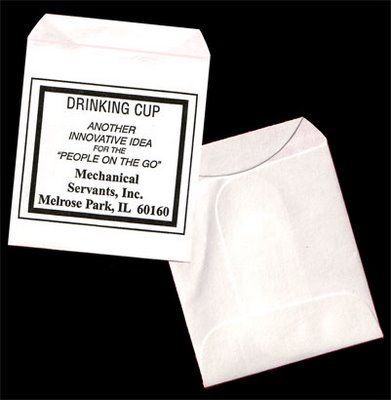 "Begin with another's
to end with your own
"
~Baltasar Gracian, Philosopher
In the 1950s, fast-food restaurants added drive-thru lanes so people on the go, no longer had to park their cars and walk into the restaurants to order their food. Later banks borrowed that idea. And today, there's all sorts of Drive-Thrus. While in Las Vegas, I noticed a couple can get married in the Drive-Thru at The Little White Wedding Chapel.
There are tons of ideas out there.
Maybe you'll spot it by seeing a bad idea and turning it into good.
Do you like the small envelope as a drinking glass or can you improve it?
All it takes is just one innovative thought and you can change the world. That's all it takes. You can do it. I believe in you.