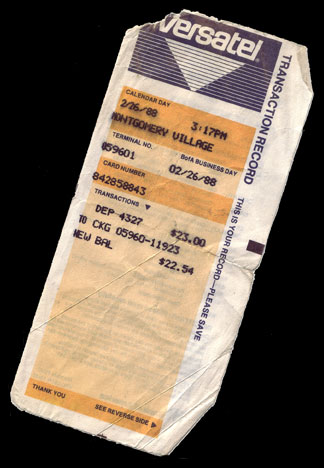 I was reading through my 1988 journal when I came across this bank deposit slip of mine tucked in between the pages. This was ALL the money I had on February 26, 1988.
And, as poor as I was, I remember feeling okay about my life. I felt
rich
in my poor state.
Well. Okay. Not rich. But, I figured I had enough.
On one side of the page was a list I had written:
Goals for 1988:
Make $17,000 a year.
Design greeting cards.
Buy an Artograph Projector.
Buy a Video Editing Deck.
Videotape weddings.
On the other side of the page was the lyrics to "The Future's So Bright, I Gotta Wear Shades" by Timbuk3.
I was an optimist.
. . . . . .
The only thing I accomplished on my list that year, was buying the Artograph Projector, but eventually, I DID make $17,000 a year and designed hundreds of greeting cards and bought a video editing deck and even videotaped weddings among a slew of other projects.
But. It all came about because I believed in myself and I didn't let a lack of funds stop me from dreaming.
Today, I am not rich by any stretch of the word. But I am a self-employed artist who is finding her way in this world.
I believe at this very moment, I am exactly where I am supposed to be.
And I believe my past, though checkered by some struggles and seemingly failures, has made my present life much more appreciative and productive.